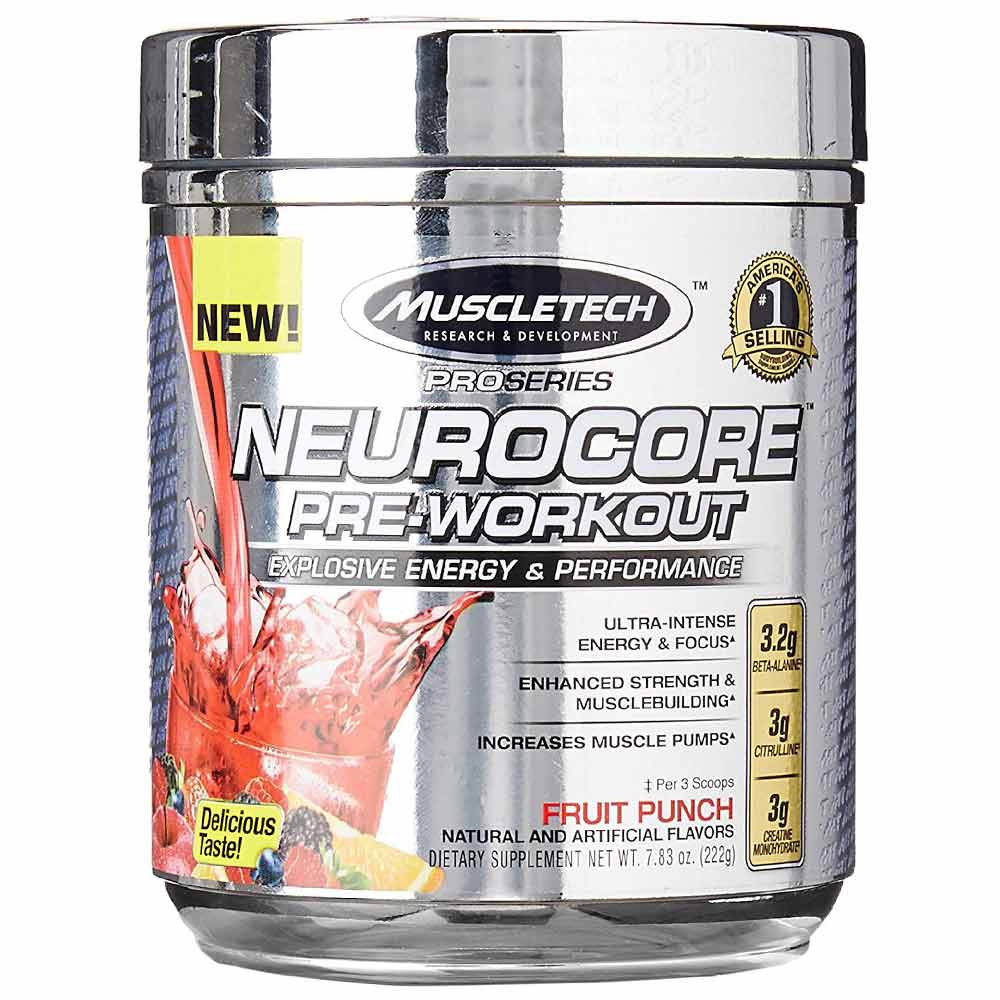 visit

Muscletech

store
MuscleTech Neurocore "30 Serving"
Ultra-Intense Energy And Focus*
Designed For Explosive Strength And Enhanced Muscle Building*
100% Authentic Sourced directly from Muscletech
Brand
Importer | Brand
Shri Balaji Overseas (✓ Brand Authorized):
Khasra no 731/1 div iii phirani road mundka Delhi 110041
Country of Origin: India
FSSAI Lic. No. 10015011002705
Email : [email protected]
Manufacturer
1) Muscletech, Lovate Health Science, 3880 Jeffery Blvd. Blasdell NY 14219
Country of Origin: USA
2) Superchem Nutri Formulation,Jamniwala Road,Near Jamboo Khala,Badripur Paonta Sahib Sirmaur, Himachal Pradesh
Country of Origin: India
Details
Bring Out the Best in You with MuscleTech Pro Series Neurocore
3g of L-Citrulline in every serving (2 scoops) of MuscleTech Pro Series Neurocore gives you a long-lasting muscle pump.
You have 3.2g of Beta-Alanine and 3g of Creatine for maximum strength and endurance.
MuscleTech Pro Series Neurocore comes with Rhodiola extracts that help you focus better when you are training.
320mg of caffeine in each serving keeps you mentally alert and gives you more energy.
All ingredients in MuscleTech Pro Series Neurocore are mixed in clinically tested proportions to give you maximum benefits.
Benefits of MuscleTech Pro Series Neurocore
If you love to challenge yourself then MuscleTech Pro Series Neurocore Icy Blue Raspberry is just the supplement that you need. The perfect combination of ingredients in each serving of this supplement gives you the energy that you need to smash every training session. Some benefits of this pre-workout powder are:
Get a monstrous pump: The goal of every workout is to achieve better muscle volume and size. With Neurocore MuscleTech, you get just that. Every serving gives you 3g of Citrulline which enhances the supply of blood to your muscles. As a result, muscle size increases instantly. You also have the advantage of better nutrient and oxygen supply to your muscles for maximised performance.
More strength and endurance: This product also contains 3.2g of Beta-alanine and 3g of Creatine in each serving. These ingredients are known to enhance strength. They also help in better energy production within the body in order to help you endure longer training hours easily.
Better performance under stress: Neurocore, the best pre-workout of 2019, has ingredients from Rhodiola extract. Rhodila extract helps in combating stress and fatigue. 100g in every 2 scoops helps improve your ability to function even under immense stress. It keeps you more focused and allows you to train harder.
Stay mentally alert: Neurocore pre-workout is recommended by most athletes and bodybuilders because of the perfect quantity of caffeine. Each serving comes with 320mg of caffeine which keeps you mentally alert throughout your training. Not only does this enhance your performance, but is also vital to prevent any chances of injury.