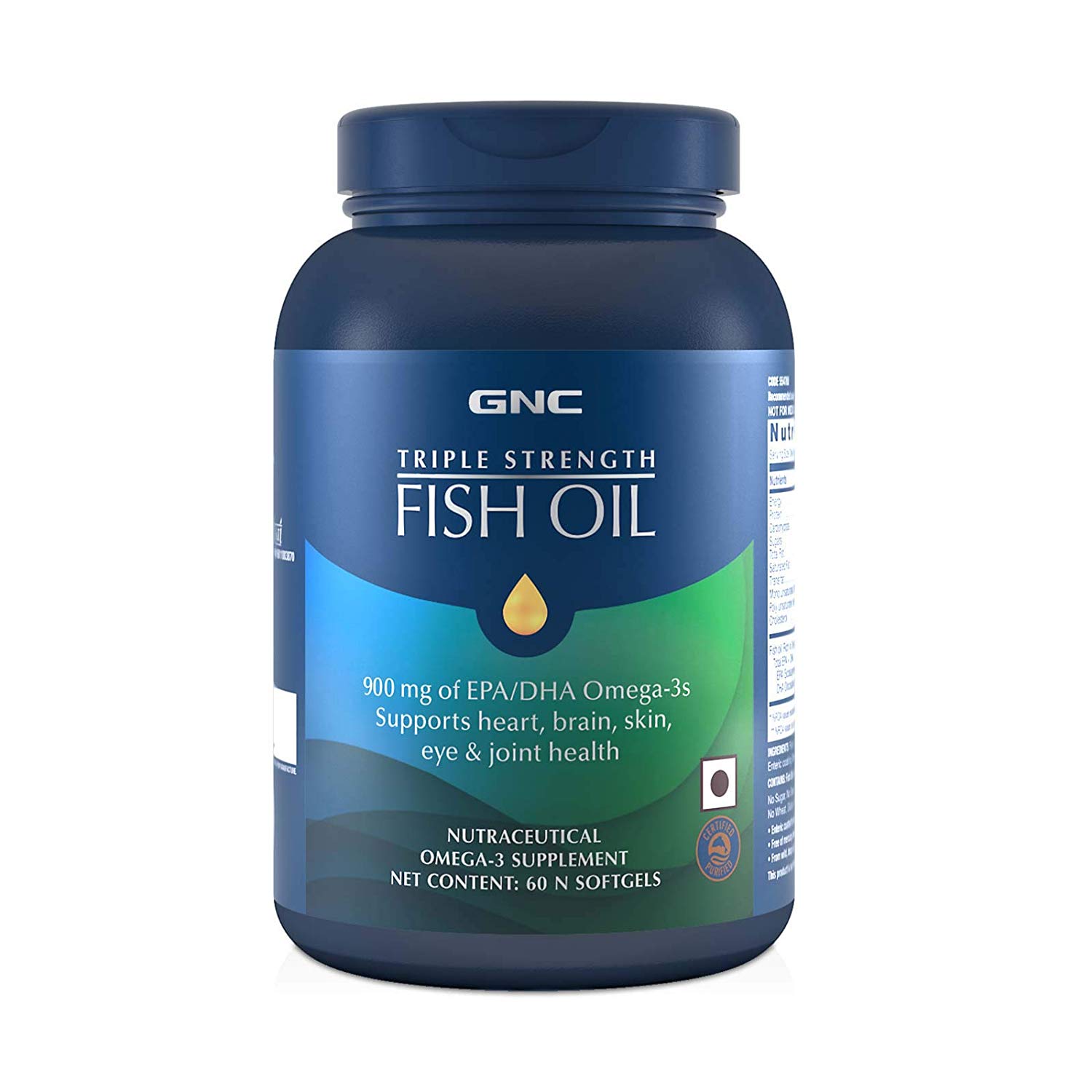 visit

GNC

store
GNC Triple Strength Fish Oil
Key Features:
900 mg of EPA/DHA Omega-3s with 540mg EPA and 360mg DHA per serving

Regular intake of Omega-3 fatty acid is highly recommended and beneficial right from the first day of your life i.e. during pregnancy, kids, teens, and older age
100% Authentic Sourced directly from GNC
Brand
Importer | Brand
Guardian Healthcare Services Pvt. Ltd. (✓ Brand Authorized):
12-14, 3rd Floor, Brady House, Veer Nariman Road, Fort, Mumbai-400001, India
FSSAI Lic. No. 10016011003870
[email protected], 18001036861
Manufacturer
1) Nutra Manufacturing, 1050 Woodruff Road, Greenville, SC 29607
Country of Origin: USA
2) Zeon Lifesciences Ltd., Poanta Sahib, Sirmaur HP 173025
Country of Origin: India
3) Tirupati Wellness, SurajPur, Nahan Road, Paonta Sahib, Sirmaur HP – 173001
Country of Origin: India
4) Maxcure Nutravedics Limited, 12 Sector – 6A I.I.E. Sidkul, Haridwar Uttarakhand 249403
Country of Origin: India
GNC Triple Strength Fish Oil If you're looking for an easy way to enjoy the benefits of Omega-3s without the powerful, fishy after-taste, turn to GNC Triple-Strength Fish Oil softgels. When you take one capsule daily with food, this fish oil dietary supplement helps support optimal eye and brain function, cardiovascular health, and skin and joint health. These softgels feature an enteric coating that helps reduce fishy burps, so you can reap the benefits of EPA and DHA Omega-3s without the overwhelming smell of ocean fish.
No reviews found for this product.